Resources for WebPreneurs' Affiliate Program
Sign up to become an Affiliate for the Resources for the Webpreneur e-books!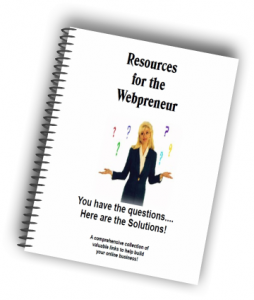 Would you like to earn income by promoting the Resources for WebPreneurs' e-books? Earn passive income just by inviting people to purchase our e-books! Put your affiliate link in your ezine or on your website! Build your business by promoting our e-books!
When you sign up for the Affiliate Program, you'll receive a 15% commission on every e-book you sell! (Note: you must have a total of $50.00 in commissions in order to receive payment for sales). The more you promote, the more you will make!
To sign up for the Affiliate Program


To login to your affiliate account